Parent/Teacher conferences will be held after school from 4-8pm on Thursday, September, 22nd and Thursday, September 29th. Please call Mrs. Woods at 345-2268 or Mrs. Pickens at 345-2266 to schedule a time to meet with your students' teachers.



The Broncos Game of the Week is taking place in Akron tomorrow night, Friday, September 2nd. Please make plans to come out and enjoy this event and support the Ram football team in their season opener.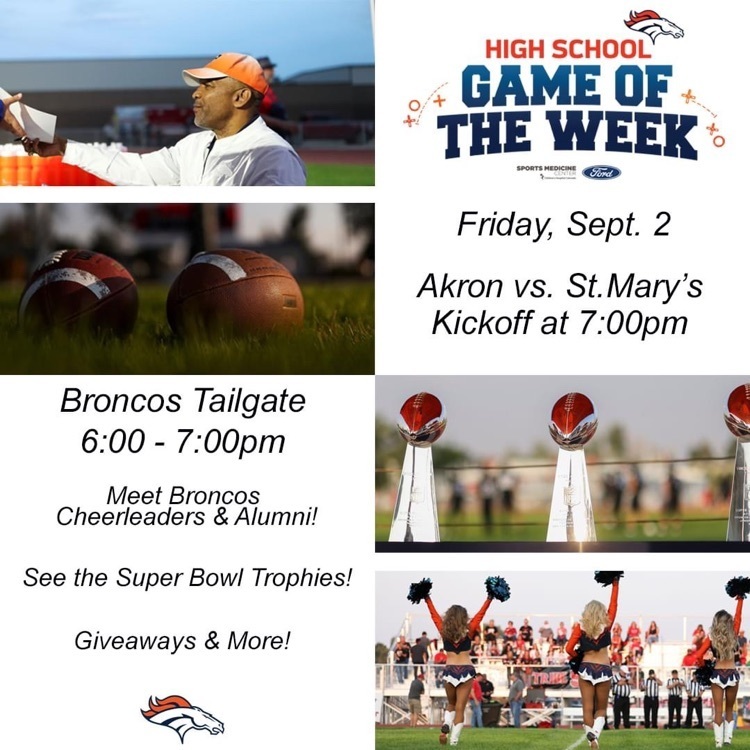 The Akron Elementary staff welcomed students and parents to their first day of school this morning. The tradition of meeting on the baseball field started a couple of years ago and has become a great way to meet and welcome students and parents, while also allowing for some great picture opportunities for everyone. We are excited about the new school year and appreciate the great support we get from our parents and community. Go Rams!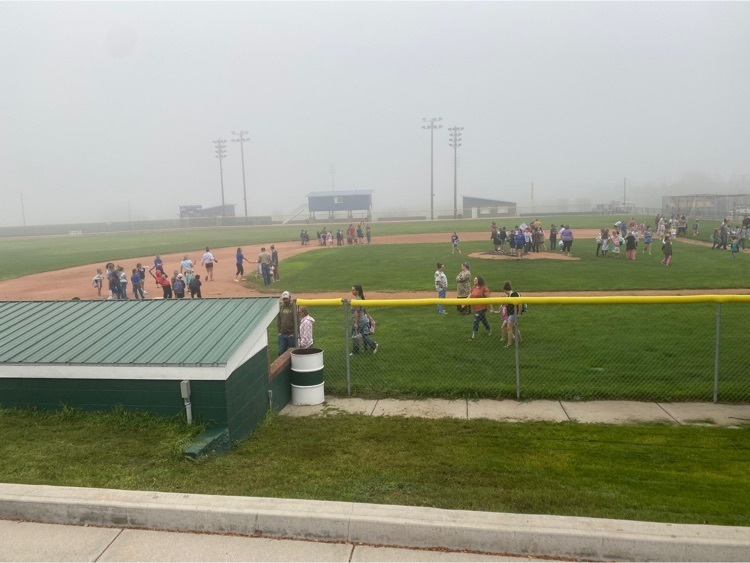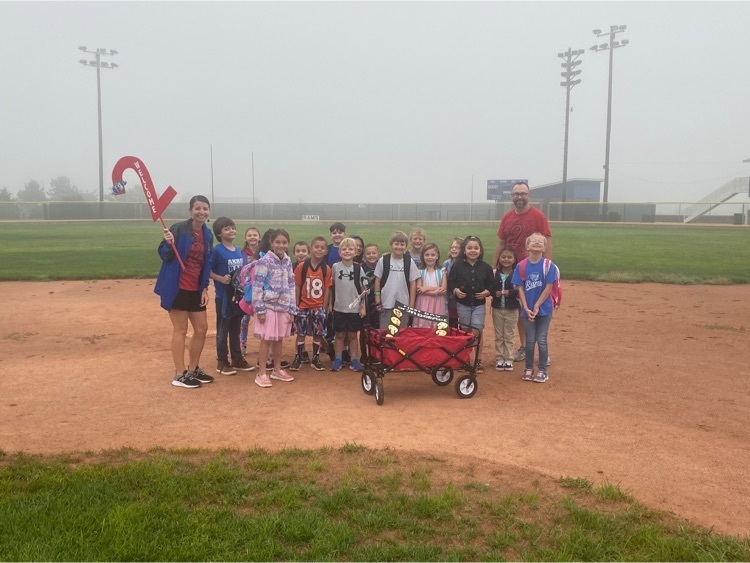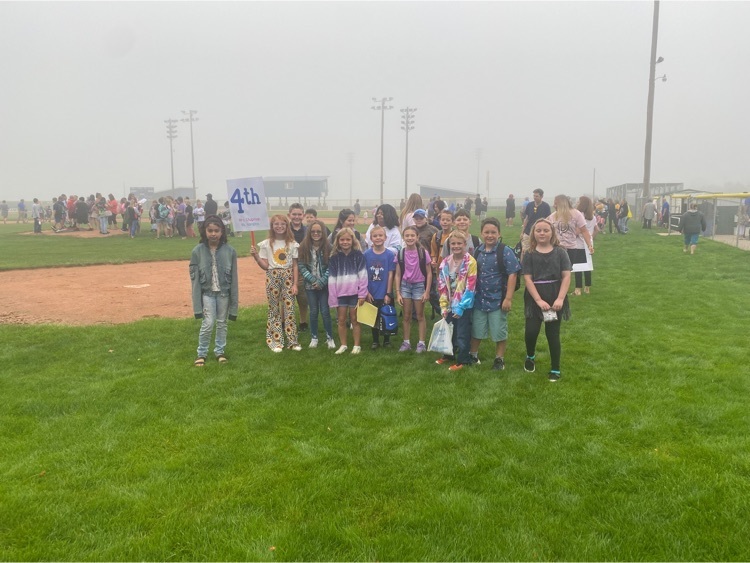 Our 5th grade Ram Squad is working on ways to help and support the school. The group gathered yesterday with Ms. Hamilton and Mrs. Chapman to work on crosswalk safety and flag folding in preparation for helping other students use the crosswalk and weekly flag duty. Go Rams!

Welcome to the start of the 2022-23 school year!! Please use the link below to access the Ram Page newsletter.
https://www.smore.com/3fhrg
Go Rams!

Reminder : Today is the last day to pick up your school registration packets. For registration you need to fill out paper work in the packets AND register online with Alma. Registration will be Monday, August 8th at 9:00-12:30. See you then!!

Incoming Kindergarten families, Your child will be receiving a postcard from their teacher after our registration day, Monday, August 8, with details for the first days of school. Please plan to attend registration anytime between 9:00am-12:30pm next Monday, to ensure that we have your child's information in our system. Mrs. Anderson, Principal

ALMA Registration is OPEN! Returning Student(s)- If you have a returning student and know your parent login to Alma, sign into Alma and complete the registration process below: 1. Select "Alma Start Forms & Tasks" (under your child's name) 2. Click on the green (+) circle 3. Select school 4. Select school year 5. Click on "2022-2023 Returning Student Information Update" & click "select" 6. Click on "begin here" and Complete/Update/Review each of the 3 forms 7. Click "submit" - You're done! New Student(s)- If you do not have a parent login to Alma, please use the following link to set up your account
https://akrondistrict.almastart.com/
. 1.Select "Create Account" and complete the required fields. 2.Check your email for a confirmation message from Alma Start. 3. Click on Link to verify your account. You will be returned to the homepage to Log In. 4. After Logging in you will add Student Name 5. Click on the green (+) circle 6. Select school 7. Select school year 8. Click on "New Student Enrollment Form" & click "select" 9. Click on "begin here" and complete each of the 3 forms 10. Click "submit" - You're done! Alma URLS: Entering K-5th grades:
https://akronrams-es.getalma.com/
Entering 6th-8th grades:
https://akronrams-ms.getalma.com/
Entering 9th-12th grades:
https://akronrams.getalma.com/
If you need help completing registration, and/or need to enroll a new student to Akron School District, please attend Registration on August 8, 2022. Computers will be set up by the office and staff will be available to assist you as needed. Registration - August 8, 2022 - 9:00-12:30 Please contact us with any questions or concerns. Samara Pickens (K-5th grades) at
s.pickens@akronrams.org
Stephanie Woods (6th -12th grades) at
s.woods@akronrams.org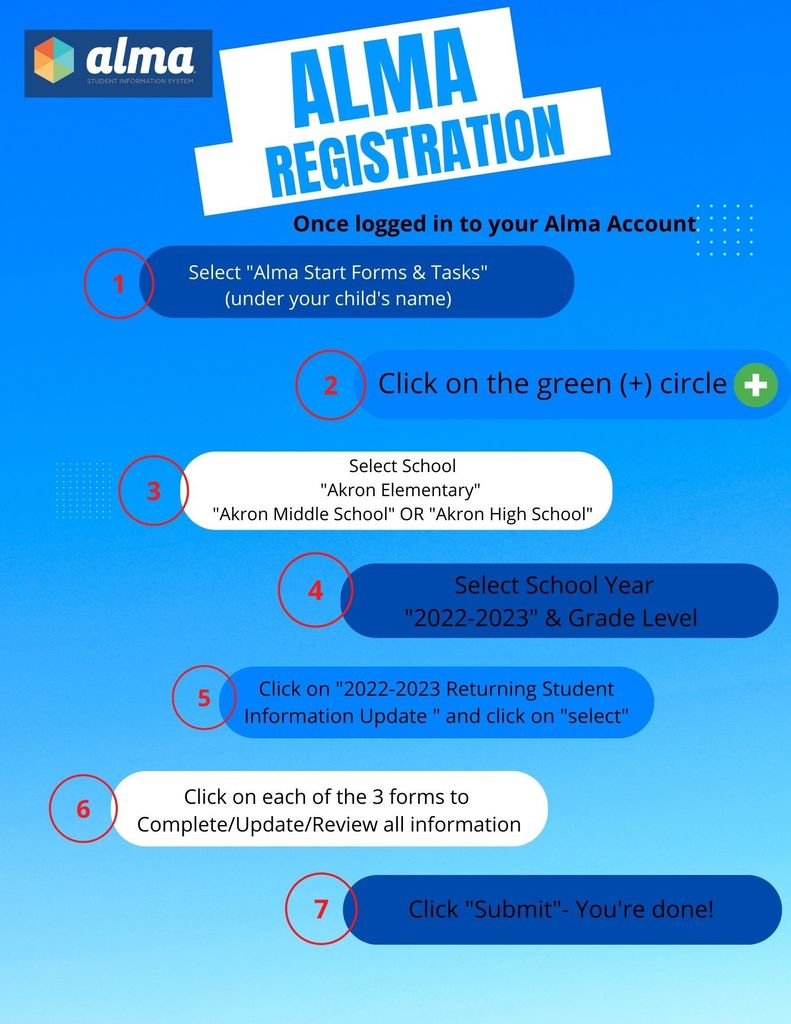 Parents and Students, SAVE THE DATES: School registration packets will be available in the entryway of the school starting on Thursday, July 28th. Registration day is on Monday, August 8th. The first day of school for 6th-12th grade students will be Tuesday, August 16th and the first day for Preschool -5th grade will be Wednesday, August 17th. More detailed information will follow in future communications. Please continue to enjoy your summer!

Senior Athletes: Akron Booster Club has added another option to have your picture taken by Lynzee Dorrenbacher for the senior banners. Friday, July 22nd at 4:30 and Saturday, July 23rd at 10:00am. Please come to the school. The Booster Club pays half of your banner and you will pay the other half. PLEASE BRING $30 WITH YOU! We will not be able to take your picture without payment. Also—if you are considering going out for any sport your senior year, please come have your picture taken. Even if you don't go out, it will be easier to have your picture taken now. If you have any questions, please contact Sharon Vorce or any other Booster Club member.

Parents and students, Booster Club is taking Senior pictures for banners on July 23rd at 10 am at the Akron School. Please have your student there even if they are undecideds on participating in a sport. It is much easier to take it now and get everything ordered so we can display for fall sports. Please contact Sharon Vorce with any questions. Excited for 2022-23! GO BLUE!

No cost Pom clinic for all Akron High School girls (grades 9-12) interested in joining the 2022-2023 Pom Team!! Come join us for a 3 day, evening clinic at the AHS field house! Clinic will include new halftime performance choreography, team building, cheers, uniform sizing and more! To register please email registration information to coach Furrow at:
j.furrow@akronrams.org
Thanks, Jami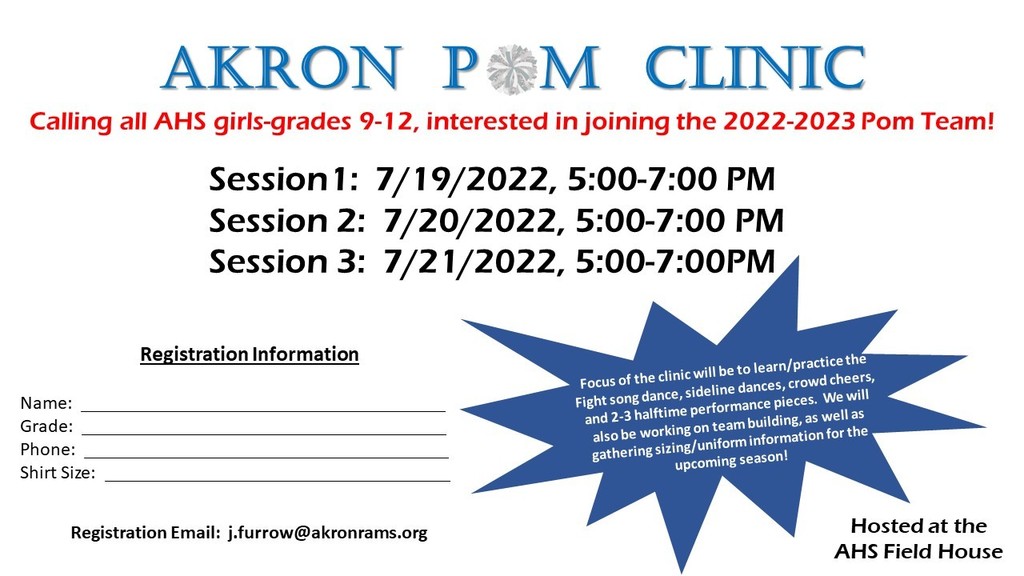 The 2022-2023 school supply lists are ready! All preschool-8th grade lists are posted at the top of the school web page. We look forward to seeing everyone in August!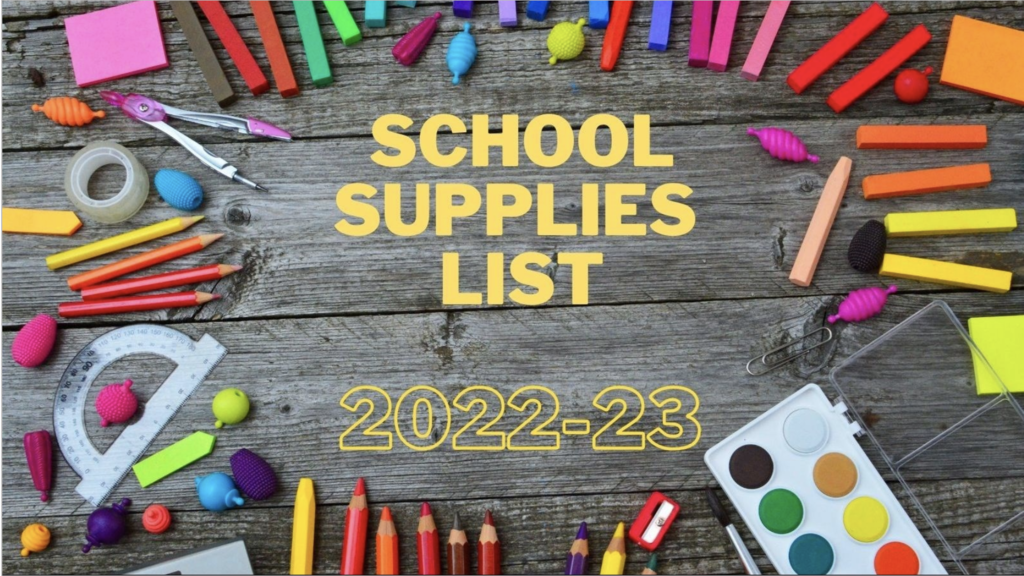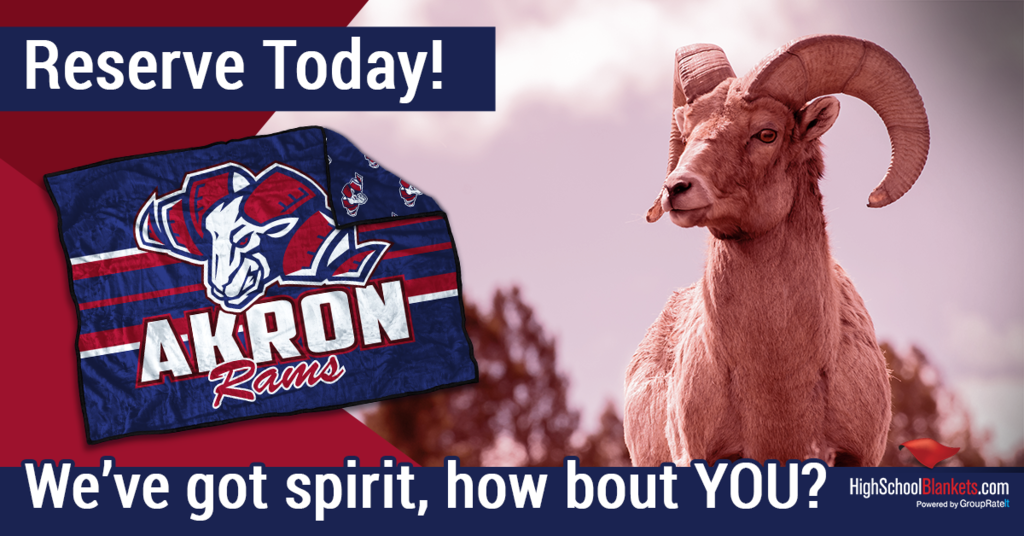 Akron School District School Bus Drivers Mountain Driving Training We are blessed to have a great group of bus drivers at the Akron School District. On Tuesday, June 21st our drivers took part in a mountain school bus driver training between Lyons and Allenspark on Colorado Hwy 7. Each driver took a turn at the wheel driving up the mountain and back down. As some people might know that is part of the Peak to Peak scenic route. There are no really steep grades like Floyd Hill but a narrow curvy canyon. Thank you, Akron bus drivers!!!🚌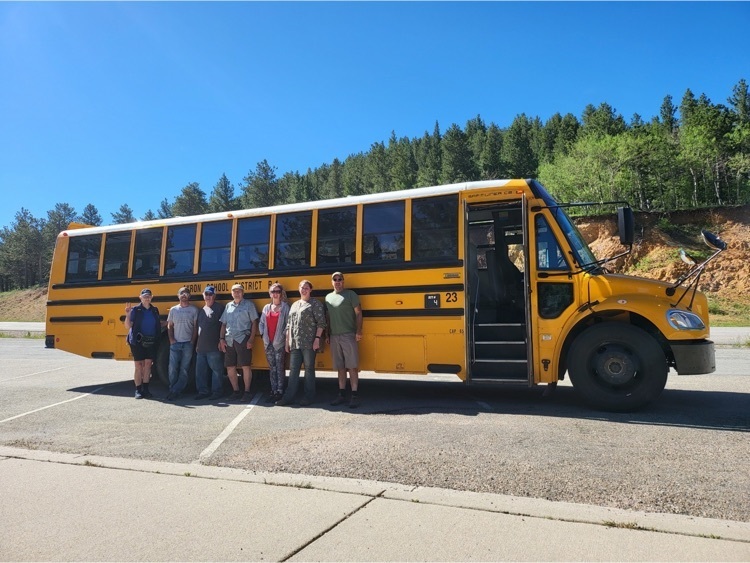 It is getting close to celebrating our RAM graduates as they begin their next adventures. The following image is the route our graduates will travel after graduation ceremonies on Saturday, May 28th. Come out and help us celebrate our SENIORS!