Dear School Bus Route Families, Thank you for your patience and flexibility as we have worked together to transport your students to school via storm routes. Our county road workers have requested one more day to insure county roads are as safe as possible for transporting your students. As a result, we are planning to return to regular bus routes on Tuesday, March 21st. WE STILL NEED YOUR HELP AND COOPERATION. If you have areas of concern on roads near your home or conditions that would be problematic for a bus entering your residence, we need you to communicate with your route driver as soon as possible to make alternative arrangements. Thank you!




Dear Akron Rams Parents and Community, We were informed by the Washington County Sheriff's Department that there have been multiple schools in Colorado that have received threatening calls this morning. All of the threats have proven to be false. Some schools are in lockdown for precautionary measures. We want you to all be aware that we will be on alert all day, our school at this time has not received any threat, and that we will continue to work with Washington County Sheriff's Department to ensure that our school is safe. Officers from the Sheriff's department will be monitoring our campus throughout the day. If more information comes our way we will be sure to let you know.


Dear Akron Rams Families, We will have school at our regularly scheduled time today. We do understand that our out of town families may need to navigate some challenges with county road conditions. We once again encourage parents to make the best decision for your student(s) whether that be coming to school later or staying home based on your situation. If you are meeting the bus please communicate with your route driver. If your student will be late or absent please make sure you contact the school office. Thank you for your understanding and flexibility as we continue to work through challenging weather conditions. Thank you.

Early release 2-15-23 Attention Akron Ram Parents: Due to deteriorating weather and road conditions the Akron School will be releasing students early today at 1 PM. Because this is an early release and not a full snow day, we will NOT need to have school on Friday. Bus route parents please be at your storm route pickup spot by 1:05 pm. If you need to make alternative student pick-up arrangements, please contact the school 970-345-2268

Dear Akron Families, We will be having school today. Safety is our priority, therefore student attendance will be based on parental discretion. If you feel it is appropriate and safe for your child to attend, and transportation for you is not an issue, we encourage your child's attendance. If you have any concerns, you may choose to keep your child home. Absences will be excused as long as a parent contacts the school office. We apologize for any inconvenience. We believe this plan addresses the varied individual needs of our parents/students and community resulting from this type of storm. Please note, if weather conditions change throughout the day, our plans may change. Thank you.

Attn HS Basketball Players, Parents, and Fans: Slight schedule change to tonight's HS Basketball games at Hi Plains. No JV Girls tonight. Game schedule 2 quarters JV Boys, V Girls, then V Boys. Varsity games may start as early as 4:45. Go Blue!


Attn: High School Basketball Parent, Players, and Fans. Games today at Hi Plains have been canceled due to road closure. We are rescheduling the game for Monday, February 13th starting at 4 PM, same game schedule. If you have any questions please let the school know.


Update for tonight's game v Perkins County Thursday February 2nd HS basketball v Perkins county 4 pm start Main court order- 4 pm Jv boys 5:15-530 short parents night 530- V Girls 7 V Boys Blue court- 4pm 2-quarters JV girls

MS Girls Basketball tomorrow Feb 2nd has been switched to Julesburg instead of Ovid. Game times will stay the same. Thursday Feb 2nd MS Girls basketball @ Sedgwick County(Julesburg) 4pm start leave 1:45 -Order D,C,B,A all on one court

Tonight's game @ Fleming There will be no jv girls due to girls being sick 4pm start 2- quarters c boys Jv boys Varsity girls Varsity boys

Parent Teacher Conferences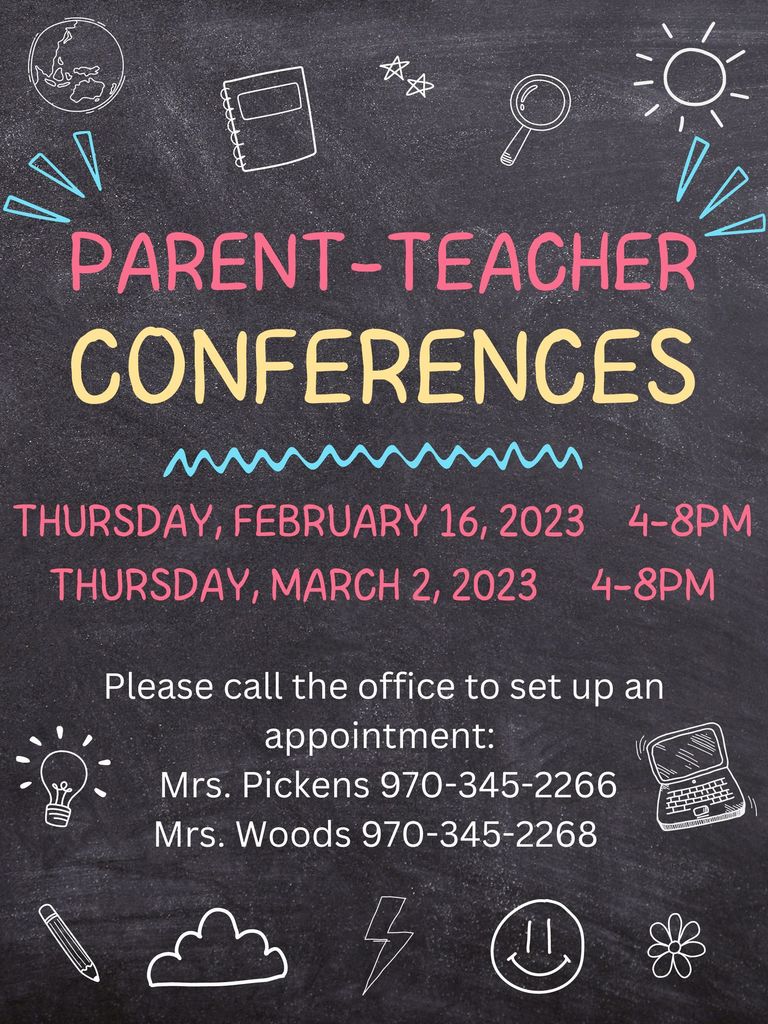 Tonight's games move up to 5pm varsity start time with no jv boys to get Simla on the road home earlier Saturday January 28th 5pm girls varsity 630 boys varsity

Time change for HS basketball in Caliche Friday Jan 27th Hs basketball at Caliche leave 250 Jv girls 4:30 start V girls 530 start V boys 7pm