Parent/Teacher conferences will be held after school from 4-8pm on Thursday, September, 30th and Thursday, October 7th. Please call Mrs. Woods at 345-2268 or Mrs. Pickens at 345-2266 to schedule a time to meet with your students' teachers.


Akron SD is honoring our first responders this Saturday with free admission to our HSVB and HSFB games along with recognizing them at halftime of the HSFB game. We are so grateful to our first responders and what they do for us on a daily basis. Please come out to the games and help us show our gratitude! We have a flyer attached with more information.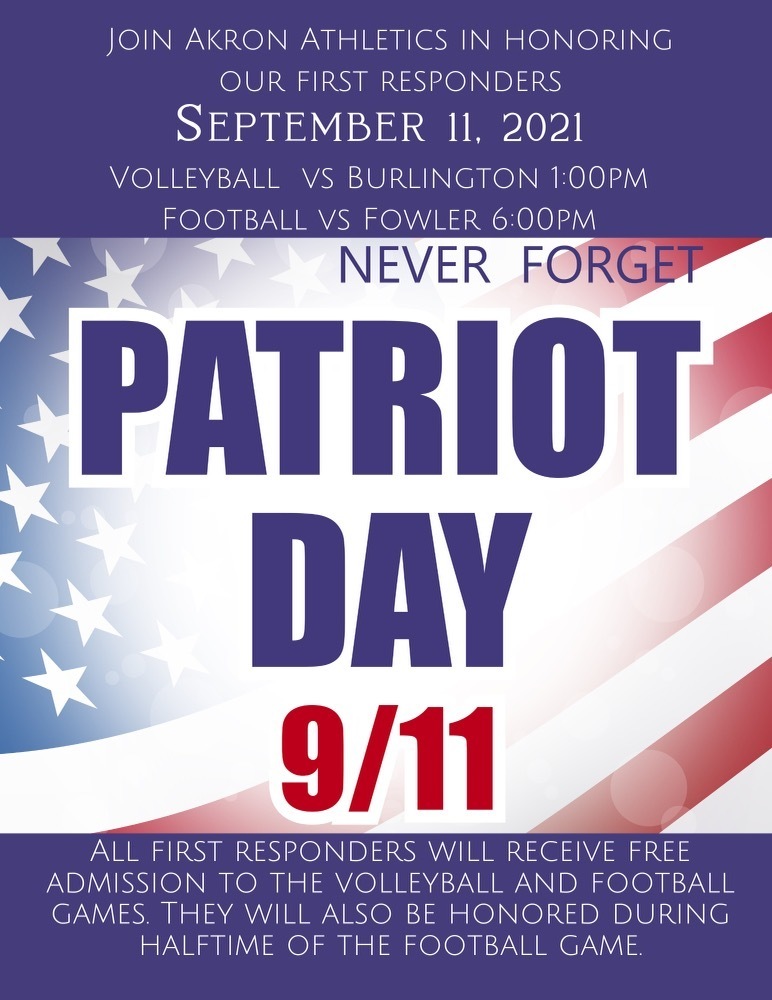 The Akron Alumni Association is serving a Nacho meal during tonight's football game. Nachos supreme meal $5 No Meat Nachos supreme meal $4 Nachos $3 Come out and support our Alumni Association while you are cheering on our RAMS! GO BIG BLUE!

Ram Fans, Once again we will be streaming all of our home contests and events. All events will be streamed on the NFHS network. In order to view these events you will have to purchase an Annual Pass for $69.99/year or you can purchase a Monthly Pass for $10.99/month. The school will receive a portion of this purchase which will directly benefit our students. You will be able to access the event through a streaming link posted on the Akron Rams Athletics/Activities Facebook page. The link will be posted by 12:00 PM on the day of the event. If you have any questions please contact the Akron School District. How to access NFHS Network Website: nfhsnetwork.com New User: Enter your email address and click Join Now Return User: Click Login in the upper right hand corner Again, you will have to purchase a subscription to watch the game in real time. Excited to get started and excited to host of first home event this Friday with the Rams Football team taking on Byers at 7 PM. GO BIG BLUE!

The FCCLA Kickoff Party for tonight has been canceled due to weather. Please let your students know.

Akron Ram Fans we have a new Facebook page for you to visit to see all information concerning athletic/activities. This will include times, schedule changes, online streaming links, etc. Please follow the new Akron Rams Athletics/Activities and help us support our Akron Rams!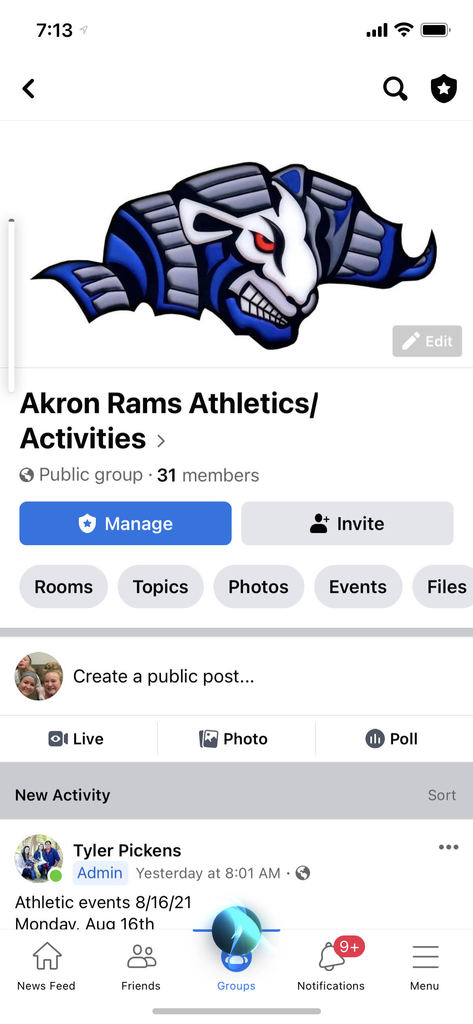 Reminder to 6th and 9th grade parents. We have 6th grade orientation in the cafeteria tonight at 5:30 pm. 9th grade orientation will also be tonight in the cafeteria at 6:30 pm. Parents and students encouraged to attend. Excited to get our families back in the building!

Akron Parents, FINAL CALL for registration for the 2021-22 School Year! We know that your schedules are busy with the end-of-summer activities, therefore we are offering one more opportunity to come to the school and register your child. If you were unable to register last week, please plan to come to the school this Wednesday, August 11th, from 5:30-6:30 pm. It is important to get our students off to a great start, and this registration will help us do just that. We are so excited to have our RAMS, your kids, in our school again!

Have you ever wanted to be a part of the Akron R-1 School Board? Do you want to serve our students and your community? Then we want to talk to you! In November, two seats will be up for election each for a four-year term. To be qualified, a candidate must have been a registered voter and resident of the Akron School District for at least 12 consecutive months before the election. Nomination petitions may be obtained at the District office beginning August 4, 2021. Office hours are 7:30 a.m.-4:30 p.m. Completed petitions should be submitted to Kelli McCaffrey, the Designated Election Official, no later than 4:00 p.m. on August 27, 2021.

Men's Golf Schedule Please see below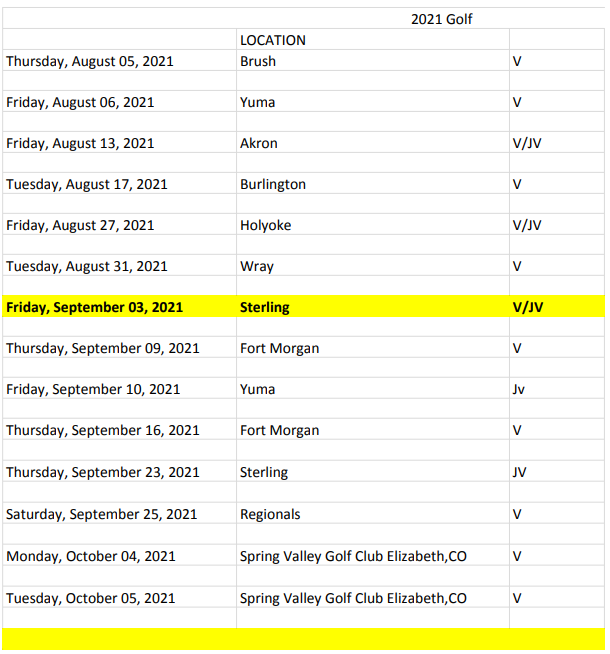 Registration packets are now available to pick up at the school. Packets are in alphabetical order by the oldest child's name. If you have multiple students, you will only have one packet to pick up. New students need to pick up a 'new student' packet. The building will be open today until 4:00 and CLOSED Friday, 7/30 due to fair. The school will be back open regular hours starting Monday, August 2nd 8:00am-4:00pm. Do not forget that registration is Thursday, August 5th. More information can be found in the packet, Facebook, or the newspaper.

High School golf practice will start Monday, August 2nd at 7:00AM. Please meet at golf course. Make sure you have your physical and insurance information on file at the office. Go Blue!

High School football practice will start Monday, August 2nd at 4:00pm. Please come in the back door by the practice field. Make sure you have your physical and insurance information on file at the office. Go Blue!

Facility Reminder: The fieldhouse will be closed to everyone from July 26th - August 2nd to refinish the gym floors. The weight room is still available during this time. Please help spread the word. Excited to get the 2021-22 school year started! GO BLUE

Akron High School is holding a meeting for all high school girls interested in participating in Pom for the 2021-22 school year. The meeting is Thursday, July 22nd, 2021 at 9 am in the Akron School cafetorium. Please attend if you are interested. Please see attached flyer.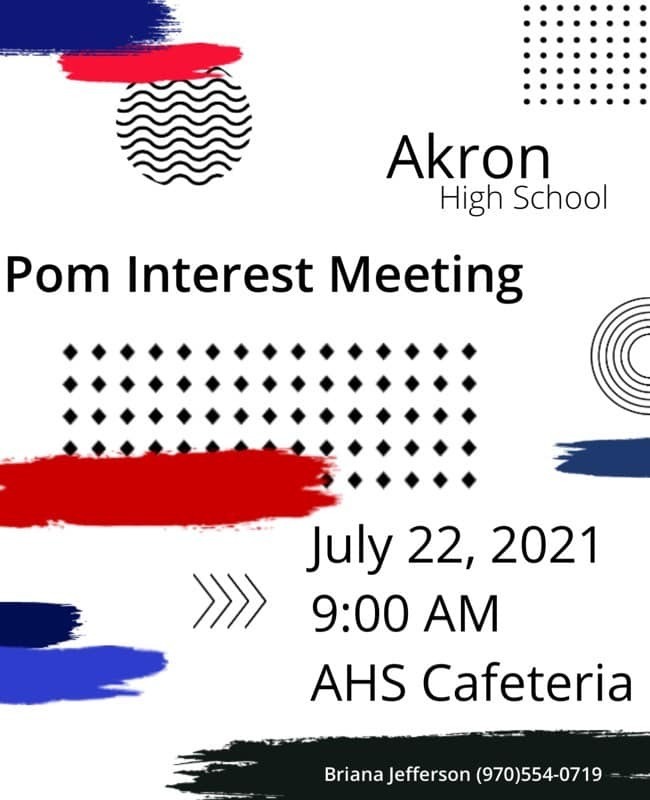 Good Morning After receiving input from parents and graduates, researching many different weather apps, and considering the graduates wishes we have decided to move our 2021 Graduation to the fieldhouse. We wanted to make this the best possible moment for our graduates and feel this is the safest solution. Please know that the delay in the final decision was in an attempt to follow our graduates wishes. Your flexibility is greatly appreciated. Excited to celebrate our graduates accomplishments tomorrow morning. ONCE A RAM ALWAYS A RAM! Mr. Shawn Randel